Bio:
The long version:

Elizabeth LaBan lives in Philadelphia with her restaurant critic husband and two children. The Tragedy Paper, published by Knopf on January 8, 2013, is her first young adult novel. She is a freelance writer and editor whose work has appeared in The Philadelphia Inquirer, New York Newsday and The Times-Picayune, among other publications. She is the author of The Grandparents Handbook which was published by Quirk Books. She has a master's in journalism from Columbia University, and a bachelor's in English from Trinity College in Hartford. Elizabeth worked at NBC News in New York, taught journalism at a community college in New Orleans, and was a reporter at a number of small to mid-sized newspapers before her first child was born.

The short version:

Elizabeth LaBan lives in Philadelphia with her restaurant critic husband and two children. She got an A on her Tragedy Paper.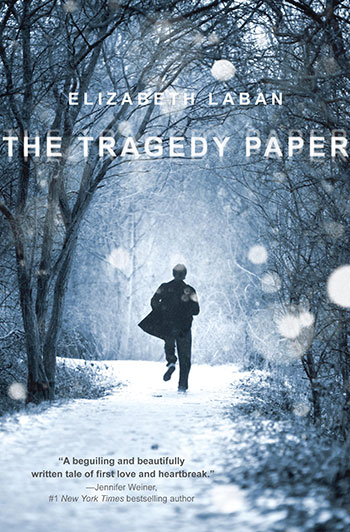 Tim Macbeth, a seventeen-year-old albino and a recent transfer to the prestigious Irving School, where the motto is "Enter here to be and find a friend." A friend is the last thing Tim expects or wants—he just hopes to get through his senior year unnoticed. Yet, despite his efforts to blend into the background, he finds himself falling for the quintessential "It" girl, Vanessa Sheller, girlfriend of Irving's most popular boy. To Tim's surprise, Vanessa is into him, too, but she can kiss her social status goodbye if anyone ever finds out. Tim and Vanessa begin a clandestine romance, but looming over them is the Tragedy Paper, Irving's version of a senior year thesis, assigned by the school's least forgiving teacher.
Jumping between viewpoints of the love-struck Tim and Duncan, a current senior about to uncover the truth of Tim and Vanessa, The Tragedy Paper is a compelling tale of forbidden love and the lengths people will go to keep their love.
1-Introduce yourself. Can you tell us some of the best experiences you've had as a child, teenager, and adult?
I say on Twitter that I'm a mom, a writer and a well-fed wife, and that pretty much sums me up. I have two kids – 14 and 11. I am married to a restaurant critic so we eat really well – we just celebrated our 16th wedding anniversary on Friday. And I'm a writer. I've been writing since I was in fourth grade – fiction, nonfiction, newspaper articles, children's books, novels – not all published, mind you, but still!
I'll go backward with the best experiences – as an adult I would say my wedding day, having my two kids, our family vacations to Kentucky and Maine, and all our various adventures in and out of restaurants. As a teenager I would say parties in high school when I finally felt like I fit into a group of friends I really liked and trusted, family trips to Nantucket, and days when I could stay home and watch soap operas from 12:30 until four! And As a child there are many – playing on my dead-end street with all the kids in the neighborhood, hanging around with my parents, and Vermont weekends.
2-What inspired you to write The Tragedy Paper and do you share any traits with the characters?
I wrote The Tragedy Paper after writing three women's fiction books that are still not-yet published. It became clear that it was hard to break into that genre, so I decided to try something different. My agent Uwe Stender suggested writing a young adult book, and I loved the idea. I had always loved reading young adult books – particularly those by S. E. Hinton – so I gave it a shot. One huge difference between my young adult book and the three that came before is that with this one I do not share obvious traits with any of the characters, in my other books I very clearly do.
3-The Tragedy Paper is narrated between two characters. Why? Do you personally prefer third or first person narration?
As I was settling in to write The Tragedy Paper, I read Goethe's The Sorrows of Young Werther. In that book, Werther tells his sad story to a friend through letters. I loved that and wanted to use a similar structure for my book. That's how I decided that Tim had to tell his story to someone. As I got to know Duncan, though, I wanted him to be more than just someone who listened, I wanted him to have his own story. That's how I reached the dual- narration.
I have always preferred first person narration – to write and to read.
4-When did you start writing? What made you think, Okay, I should get my book published?
When I was about 13-years-old I read S. E. Hinton's That Was Then, This Is Now. It was the first time I actually missed the characters when I finished a book. It was an amazing feeling, and made me want to try to create characters that someone might like so much that they miss them when the story is over. I've been writing ever since then. It wasn't until my son was born 11 years ago, though, that I got very serious about writing fiction and trying to get it published. That's when I found my agent and started the process.
5-What do you personally think of the cover for The Tragedy Paper? I absolutely love its simplistic style!
Thank you! I love the cover. I've loved it since the first time I saw it. I still get as much of a thrill from seeing it in a bookstore as I did the first time. I have a feeling that will never go away!
6-What writing advice would you give to people who want to become writers, but aren't very good?
First, I would say to never, ever give up. I also think as writers we think too much and edit too much before we even get that first draft down – so I would say let yourself be very free with that first go-around with a story. If you really think you aren't good, or don't have much experience, then I would suggest reading as much as you can – that way you expose yourself to different ways of writing and different rhythms, which can only help make you a better writer.
7-What are the best and worst parts of writing/getting published?
The best parts are working with amazing people to make your story better and actually getting your book out there for people to read. The worst parts are waiting, rejections, and bad reviews!
8-What are some of your hobbies (assuming writing is one)?
Baking, walking, hiking if I can talk my family into it, planning future vacations, and, of course, reading.
9-Some adults say that reading YA(young adult) or fantasy/fiction/stories aren't beneficial and that you should read things that teach you stuff. What is your opinion on that matter?
I think people should read what they want to read – I would never discourage my kids from reading what appeals to them. Reading books that teach stuff is also great, if you're interested in what the book is teaching. But I think there is nothing like a good novel – if you are always reading a good book you will never be bored or lonely.
10-I am sure you read a lot. What are some of you all-time favorites? Also, do you have any weird reading habits?
I tend to read in bed just before I go to sleep. If I'm really into a book then I'll read whenever I get a minute. I mentioned how much I love S.E. Hinton's books. Some of my other favorite authors are Liane Moriarty (she has a new one coming out soon, I can't wait!), Scott Spencer, Jennifer Weiner, Sarah Pekkanen, John Irving, I could go on and on.
11-How much time do you generally spend time writing? How long does it take to complete a book, and how long does editing take?
That depends so much on what else is going on in my life. With The Tragedy Paper, it took me a solid year to write the first draft. Once my amazing editor Erin Clarke bought the book for Random House it took another two years to get the book published. During that time it went through many rounds of editing.
12-Finally, is there anything you'd like to say to all the fans you have? Maybe some information about future books...anything at all.
I am working on another young adult novel now – I have written about 75 pages. It also takes place at a school, though not a boarding school, and this time the main character is a girl.
Thank you Elizabeth LaBan for accepting my interview request. It's great having you on the blog.
Check out my review of The Tragedy Paper
here
.
Follow Elizabeth on:
And now...time for a GIVEAWAY! Elizabeth has kindly donated a copy of The Tragedy Paper. Don't forget to tell her thank you ;). The giveaway is international.
a Rafflecopter giveaway